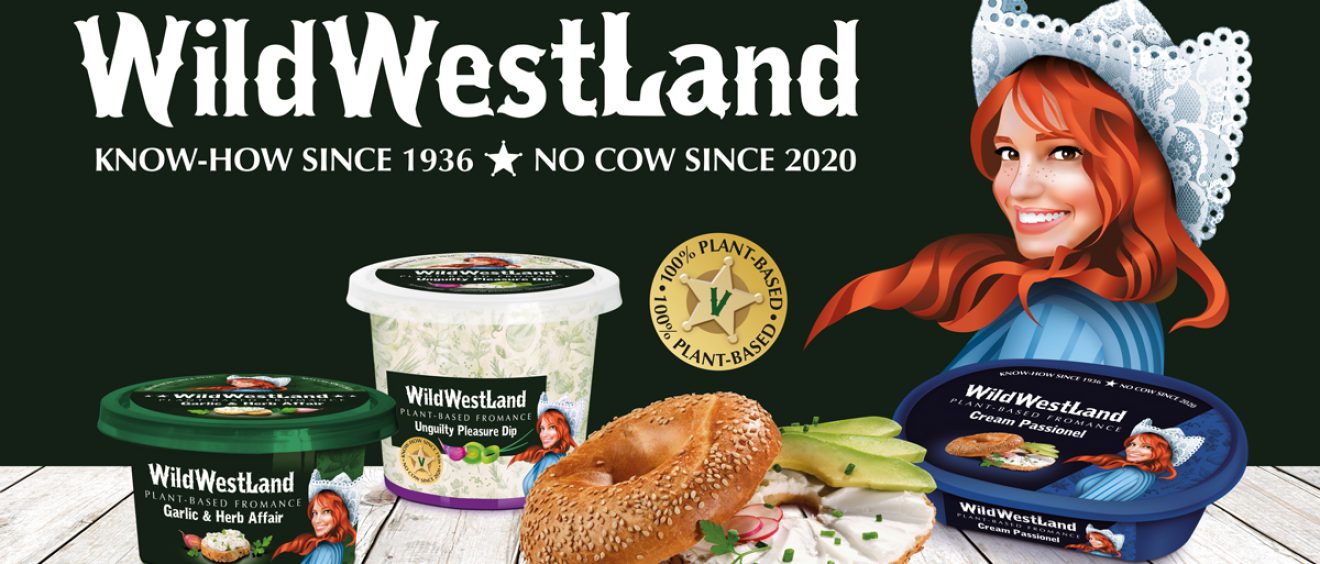 Proudly presenting: WildWestLand
Here's the scoop!
Finally – after months of tasting, fine-tuning and coming up with new words for cheese: time to tell you all about WildWestLand.
I've just sent out a press release sharing all the details on this particular cowboy-meets-cheese girl story (you can read it down below).
By mid-June, the first 3 of our WildWestLand plant-based Fromances will hit shop shelves. Packed with every bit of punch & potency that we love so much in the traditional version, and with all the planetary benefits of eating plants.
All proceeds go directly back into the development of ever better plant-based versions of the real thing. What I'm saying is, this Fromance party is JUST getting started.
Need images? You can download them right here. They're free to use, please mention WildWestLand in the credits.
Excited!
XX Annie
—-
Old Amsterdam cheese makers Westland Cheese and Those Vegan Cowboys invest all proceeds into further development of vegan indulgences
100% plant-based 'Fromance' WildWestLand in shops from June
Know-how since 1936, no cow since 2020. It's the pay-off of fresh-off-the-press plant-based brand WildWestLand. Dutch cheese makers Westland Cheese, known worldwide for cheese brands Maaslander, Trenta and Old Amsterdam, started the joint venture together with Those Vegan Cowboys: the plant-based dairy lab of Vegetarian Butcher-founders Jaap Korteweg and Niko Koffeman. The goal: to make truly tasty plant-based 'Fromance', while speeding up the development of quality vegan cheese alternatives. The first products will be available in Dutch supermarkets this summer.
Westland Cheese first Dutch cheese maker to enter the plant-based segment
The two companies found each other in their ambition to make the most sustainable, and at the same time best tasting cheese. For pioneers Those Vegan Cowboys, this is a vegan, microbial variety made from grass. Identical to the original, but without the cow – a development that needs a few more years. Westland CEO Henny Westland has the ambition to make all Westland cheese climate-neutral by 2036. With the joint venture, Westland is the first large traditional Dutch cheese maker to enter the shops with a plant-based variant.
The face of Fromance: cheese girl of 2021
WildWestLand's mascot is Annie, a modern cheese girl determined to future-proof the family business. Mind you, she's not easily satisfied – above all else, whatever she makes has to taste amazing. She meets a cowboy with wild ideas about a steel cow, and the rest is Fromance. She names the result 'Fromance' as a celebration of their joint plant-based ambitions. With Henny Westland and Jaap Korteweg in mind, every bit of the brand's story is true – apart from Annie's wild red locks. The ambitious cheese girl is already active on social media as @wildwestland_annie.
Full proceeds towards plant-based Fromance development
The founders of WildWestLand indicate that it was Fromance at first sight, an instant click 'for the love of cheese'. By combining their expertise, Fromance already allows the entrepreneurs to partly fulfill their ambitions. But, today's products aren't the end goal for them – it's a way to bring the realization of the ultimate sustainable indulgence closer, faster. All proceeds from WildWestLand therefore go back into innovation, of hard plant-based varieties in particular.
Henny Westland:
"Our dream is simply to make the most delicious plant-based Fromance. We bonded over our shared love for cheese and cheese preparation. Working together enables us to apply 85 years of cheese making experience to an animal and environmentally friendly development. The results of which will pleasantly surprise any cheese lover."
Jaap Korteweg:
"I hope that our collaboration with Westland Cheese will lead to them reaching their goal of being climate neutral in 2036 by going 100% plant-based, and that it will come with a 1000% growth in turnover. It would be great news for cows, their calves, people and the planet alike."
At Albert Heijn in June
By mid June, Dutch consumers can get acquainted with the first three Fromances: a traditional neutral variety called Cream Passionel, the herbal gem Garlic & Herb Affair and the mild spreadable Unguilty Pleasure Dip. More Fromances are in development and are expected to launch later this year. WildWestLand is negotiating with several sales channels and will be in shops at Albert Heijn from week 24. Shortly beforehand, curious followers of the brand will be given the opportunity to be the first to taste the products in a 'plant-based lover's lunch'.
Need images? You can download them right here. They're free to use, please credit WildWestLand when you do.
wildwestland.com
facebook.com/wildwestland
instagram.com/wildwestland_annie