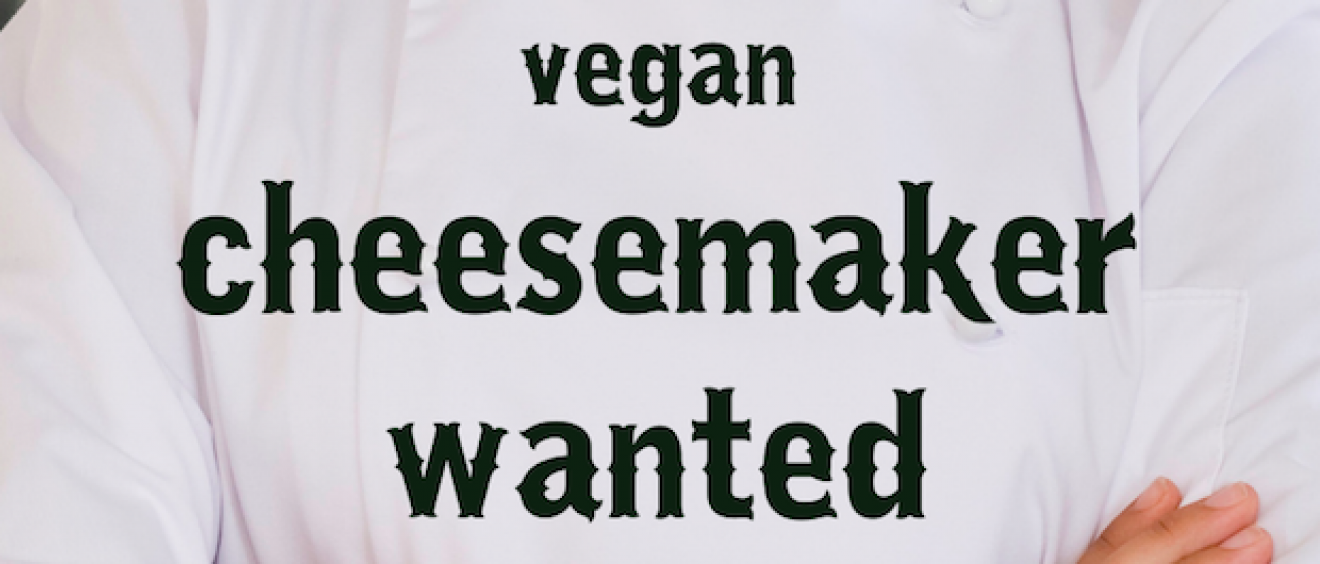 Wanted: vegan cheesemaker
Wanted in WildWestLand: a creative vegan cheese maker (part time / freelance) who:
Together with our food technologists and taste specialists, will develop groundbreaking vegan cheese.
WildWestLand is:
the promised cheese land where Those Vegan Cowboys and Westland Kaas make their wildest dreams reality: utterly delicious cheese, climate neutral, and not a cow in sight. The first WildWestLand cream cheeses have hit supermarket shelves. Now we're on the lookout for a visionary cheese maker, ready to take vegan cheese to the next level with us.
Our ideal cheese maker:
loves cheese
has a culinary background. Working experience as a chef is an advantage
knows how to bridge the gap between craft and upscaling
is curious by nature and proactively seeks out the best flavors and techniques
enjoys trying out new things in the kitchen
knows how to inspire the artisan vegan cheese makers in our cheese kitchen
has an open mind and thinks out of the box
already has a network in food or is capable of building it quickly
has a feel for marketing and commerce
What we offer:
A free space to make your vegan cheese dreams come true with a brand that is already on the market. You will be part of a highly motivated team that out to conquer the world. You can work from your own (professional) kitchen, or join us in the hunt for the ideal vegan cheese studio.
Interested? Send an email (ENG or DUTCH) to Hille van der Kaa, via info@wildwestland.com. Have some questions? Send us an email and we will call you.
—–
WildWestLand zoekt: een creatieve vegan kaasmaker (part-time / freelance) die samen met onze levensmiddelentechnologen en smaakspecialisten aan de slag gaat om baanbrekend goede vegan kaas te ontwikkelen.
WildWestLand is het beloofde kaasland waar Those Vegan Cowboys en Westland Kaas samen hun wildste dromen uit laten komen: de allerlekkerste kaas maken, zonder koe, en klimaatneutraal. De eerste WildWestLand roomkazen liggen in het schap. Nu zijn wij op zoek naar een visionaire kaasmaker die klaar is om samen met ons vegan kaas naar een hoger plan te tillen.
Onze ideale kaasmaker:
is gek op kaas
is culinair onderlegd, een achtergrond als kok geldt als een pré
weet de brug te slaan tussen ambacht en opschalen
is van nature nieuwsgierig en zoekt proactief naar de beste smaken en technieken
staat zelf graag in de keuken om dingen uit te proberen
weet de ambachtelijke vegan kaasmakers in onze kaaskeuken te inspireren
heeft een breed, open vizier
denkt out-of-the box
heeft een bestaand netwerk in food of weet dit snel uit te bouwen
heeft gevoel voor marketing en commercie
Wat wij bieden:
Een vrijplaats om je vegan kaasdromen uit te laten komen bij een merk dat al in de schappen ligt. Je wordt onderdeel van een supergemotiveerd team dat de wereld wil veroveren. Je kunt werken vanuit je eigen (professionele) keuken, of samen met ons op zoek gaan naar het ideale vegan kaasatelier.
Interesse? Stuur dan een mail (NL of ENG) naar Hille van der Kaa, via info@wildwestland.com. Eerst nog wat vragen? Prima! Stuur dan ook een mail en we bellen je.