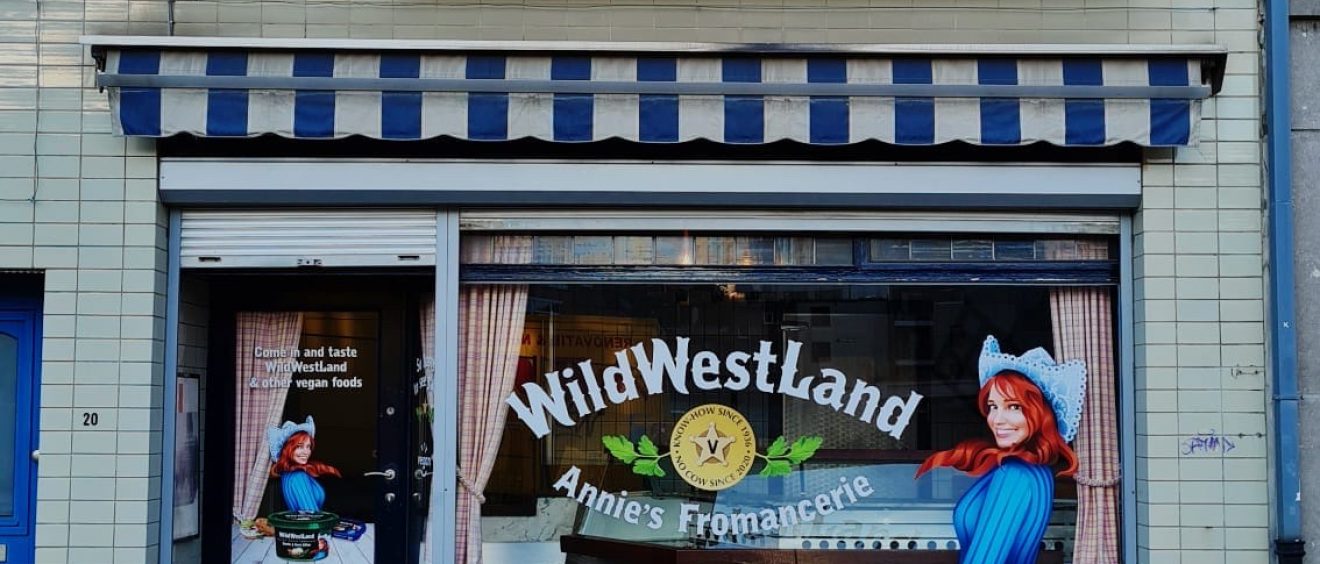 Now open in Ghent: Annie's Fromancerie 
Welcome to the first vegan street in Belgium! We had a dream: to open a real Fromancerie. An all vegan deli, dedicated to the love of great food. The perfect way to celebrate Try Vegan month, WildWestLand finally coming to Belgium (found us at Albert Heijn yet?) and glorious vegan food in general.
Well – That dream comes true today. Annie's Fromancerie opens its doors at the Brugsepoortstraat in Vegan capital Ghent. A pop-up shop open for all November. And we cordially invite you all to drop by for a bite and a chat!
What to expect
A romantic old butcher's shop radically veganized & filled to the brim with exciting vegan products. Get some WildWestLand here, taste new products, and stock up on a whole bunch of amazing vegan brands, many of them local to Ghent (I listed them below). Spoiler: one thing all these brands have in common is their passion for great taste!
What's in Annie's bag?
I love surprises and that's why I personally selected som scrumptious combinations for lunch, dinner, apero (so important) and an extra friendly priced Student's Bag. Make sure to check them out when you're there!
Vegan Street
It's not just the Fromancerie though – take a stroll along any vegan's dream: a whole street lined with vegan specialty shops…
Will we see you soon? Bring a friend! Snacks on us.
WHERE:
Annie's Fromancerie, Brugsepoortstraat 20 Ghent (rearside of Begijnhof)
WHEN: all through November Wed-Fri 11:00 – 18:00, Sat 10:00 – 17:00

MEET OUR FROMANCERIE FRIENDS:
Davai Dumplings
Mr & Mrs Watson
The Mayo Sisters
De Hobbit
Croky
Hands Off My Chocolate
Magioni
Fresh & Veggie
Provamel
Quinette
Haust
All Good raw vegan snacks (Julie's Lifestyle)
Pur Pain (De Trog brood)
La William Vegan
Try Vegan
De Vegetarische Slager
Those Vegan Cowboys