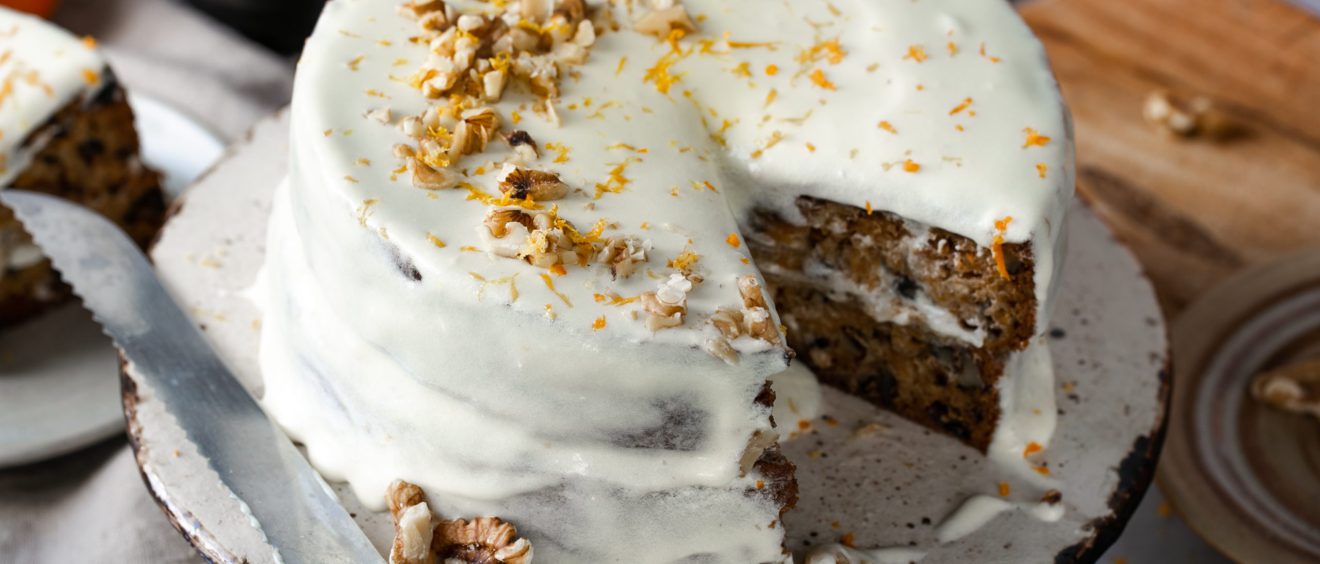 Best ever vegan pumpkin pie with orange and walnuts
Is your birthday in pumpkin season? Lucky you!
Preparation time: 30 minutes
Waiting time: approx. 1 hour
Ingredients for the cake:
500 g pumpkin, grated
125 g walnuts, finely chopped
2 oranges, zest grated
125 g sultanas
400 g self-raising flour, sifted
2 tsp baking powder
240 g light caster sugar
½ tsp grated nutmeg
1 tsp ground ginger
½ tsp salt
400 ml soy milk
160 ml neutral oil (such as sunflower oil or peanut oil)
For the frosting:
440 g icing sugar
100 g vegetable margarine
100 g WildWestLand Cream Passionel
1-2 tbsp soy milk
For the garnish:
A small handful of walnuts, roughly chopped
Zest of 1 orange
You'll also need:
2 baking tins with a diameter of 23 cm
Preparation of the frosting:
Place the icing sugar, vegetable margarine and Cream Passionel in a large bowl and beat with a mixer or whisk until smooth. Add the soy milk spoon by spoon and whisk until the frosting is light and fluffy. Taste, smile, taste a little more, then place what remains of the frosting in the fridge until further use.
Preparation of the cake:
Preheat the oven to 175°C.
Grease the baking tins with a little of the oil and line the bottom with baking paper.
Mix the self-raising flour, baking powder, sugar, nutmeg, ginger powder and salt in a bowl. Add the soy milk and oil while stirring, stir until well blended.
Add the pumpkin, chopped walnut, orange zest and raisins to the batter and stir again until well combined.
Divide the batter between the baking tins and place in the middle of the oven for about 30 minutes until the cakes are done. Let them rest in the tins. When cooled completely, remove the springform pans and cut the tops of the tarts even (you can use the trimmings to crumble and garnish the cake, or you can secretly eat them. No one will know).
Cover the top of 1 cake with frosting and place the second cake on top. Spread the rest of the frosting all over the cake until everything is completely covered. Remember: perfect is the enemy of good here, you are aiming for 'the rustic look'.
Finish the pie by sprinkling with chopped walnuts and orange zest (and optionally the trimmings crumb). Voila!
Note: If you don't have 2 baking tins at home, you can put the batter in 1 baking tin. Double the baking time, and simply cut the cake in half after cooling to spread the frosting in between.
Happy baking!