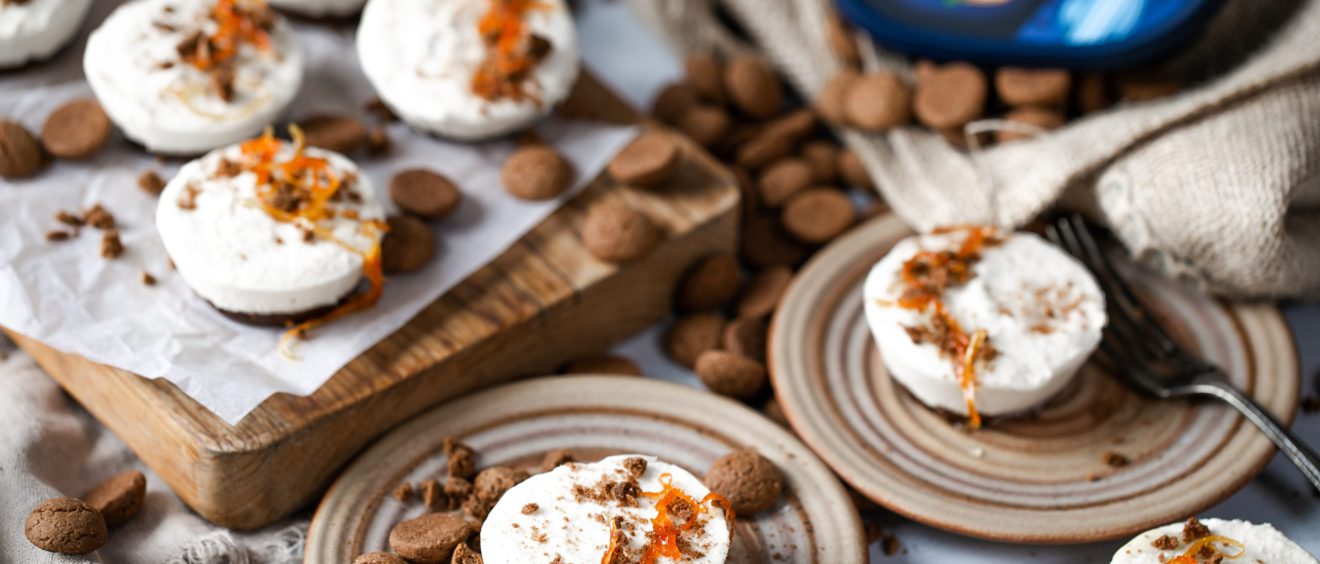 Frozen pepernoten (gingerbread) cheesecakes with tangerine
Everything that's cool about Sinterklaas season in 1 little flavor bomb
Preparation time: 30 minutes
Waiting time: 13 hours
Ingredients for 12 pieces:
For the bottom:
125 gr pitted dates, soaked about 1 hour in hot water
125 gr vegan pepernoten or gingerbread cookies
For the filling:
200 gr raw cashew nuts, soaked for 8 hours in cold water
½ lemon, squeezed
½ tangerine, squeezed
75 g coconut oil, melted
1 tub of WildWestLand Cream Passionel
1½ tbsp agave syrup
For the topping:
25 gr pepernoten/gingerbread, finely chopped
1 tangerine
100 ml water
100 g sugar
You'll also need:
A muffin tin with 12 holes (or 12 seperate ones of course)
12 strips of baking paper of 10×0.5 cm
Preparation:
Place the soaked dates in the food processor and mash them into a purée. Add the pepernoten and blitz until a loose dough forms. If the dough is very dry, you can add a few drops of water. Finally knead the dough briefly with your hands and divide it into 12 equal balls.
Grease the muffin tin(s) with a little melted coconut oil and place a strip of baking paper in each tin. Make sure the ends of the paper stick out above the mold. This will allow you to easily remove the cakes from the mold later. Place a ball of dough on each strip of baking paper and press it evenly over the bottom with your fingers. If the dough is very sticky, it may help to moisten your fingers slightly with a little water. Place the muffin tin in the freezer for about 1 hour to set the dough.
Meanwhile, make the cheesecake filling by mixing all ingredients together in a food processor until a smooth mass is formed. Divide the filling over the muffin tins and cover with plastic wrap. Let them set in the freezer for about 4 hours.
Finishing touch:
Peel the mandarin with a vegetable peeler and cut into very fine strips. Put 100 ml of water with the sugar in a saucepan and bring to the boil. Stir until all the sugar has dissolved and then add the mandarin peels. Turn off the heat and let the peels cool in the sugar water. Using the strips of baking paper, gently remove the cheesecakes from their molds and allow to come to temperature for about 10 minutes. Garnish the tarts with gingerbread crumb and the candied zest. Now go make everyone smile like you're Sinterklaas.