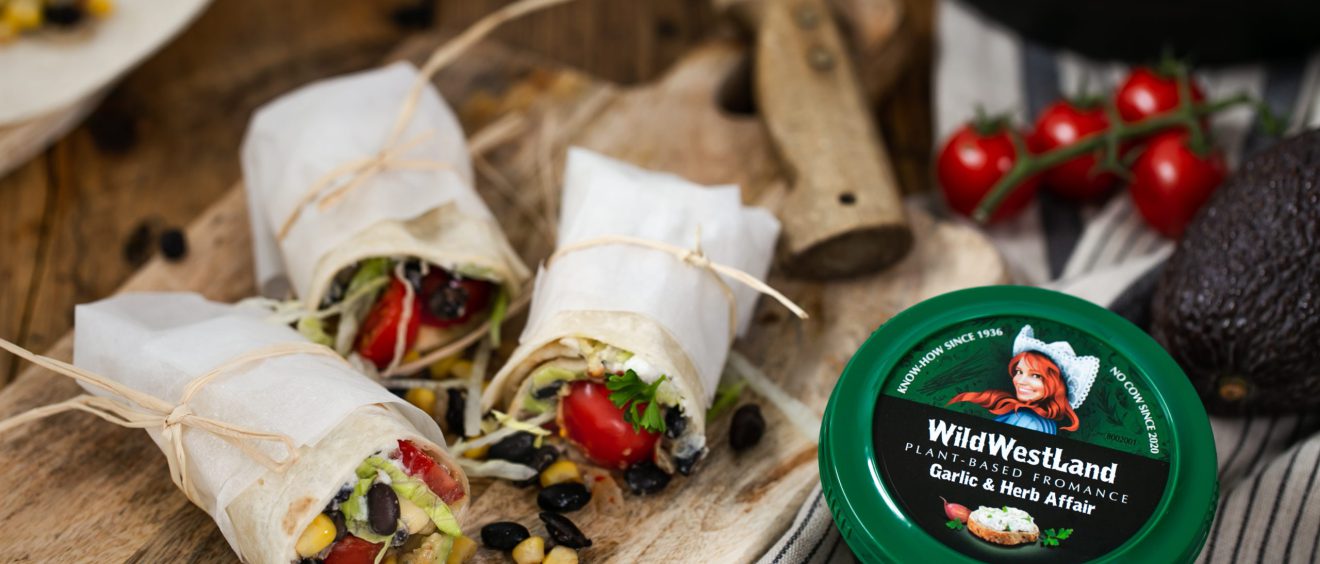 Vegan Cowboy wraps with black beans, corn, cherry tomatoes and avocado
There it is. The secret of Those Vegan Cowboys' success.
Ingredients – serves 4:
1 tbsp oil
1 red onion, chopped
1 garlic clove, minced
75 g corn kernels, rinsed and drained
250g black beans, rinsed and drained
Cayenne powder to taste
1 avocado, cut in strips
100 g cherry tomatoes, quartered
4 to 6 of your favorite tortilla wraps
¼ iceberg lettuce, washed and sliced
Pepper and salt
1 tub of Garlic & Herb Affair
Preparation:
Heat the oil in a frying pan and fry the onion and garlic in it.
Add the corn, beans and cayenne pepper and heat everything through while giving it a good stir. Season with salt and pepper.
Heat the tortillas as directed on the package.
Spread Garlic & Herb Affair onto the tortillas, and now have yourself a big fiesta with the sliced ​​iceberg lettuce, cherry tomatoes and avocado. Spoon the warm bean mixture over this and roll up the wraps tightly.
*Combine with tequila & old cumbia music at your own risk (and please invite me if you do).