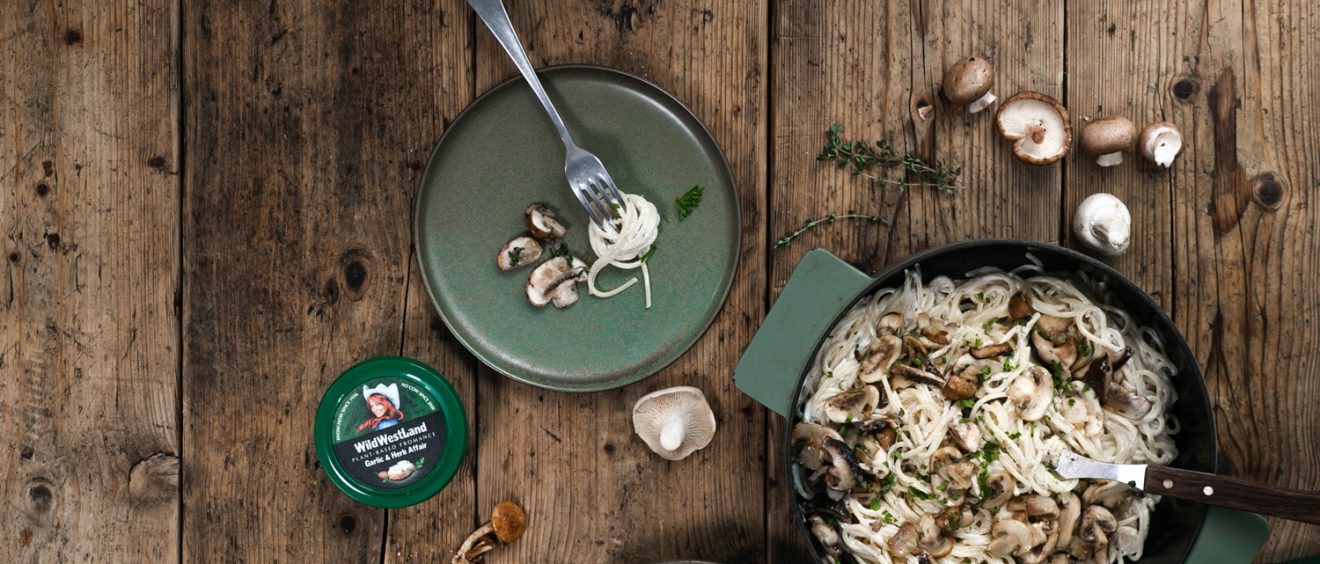 Date Night Mushroom Pasta
Happy Valentine's Day, my loves! ❤ Whether you spend it loving someone else or unapologetically loving yourself – this Date Night Mushroom Pasta will fill up your heart, and stomach, to the brim.
Ingredients – serves 4:
1 tub of WildWestLand Garlic & Herb Affair
300 g spaghetti
1 tbsp neutral frying oil
1 onion, chopped
1 garlic clove, finely chopped
A few sprigs of fresh thyme, leaves picked
500 gr mixed mushrooms
100 ml soy cream
2 tbsp parsley, chopped
Pepper and salt
Preparation:
Cook the spaghetti as directed on the package.
Heat the oil in a pan and fry the onion with the garlic until translucent. Add mushrooms and thyme leaves and cook over medium heat for 5 to 8 minutes. Season with salt and pepper.
In a bowl, whisk together the Garlic & Herb Affair and the vegan cream until a smooth mass is formed.
Drain the spaghetti and let the steam evaporate for a minute. Then stir the pasta into the cheese mixture. Do this gradually, adding a third of the pasta at a time. Finally, add the fried mushrooms and divide between four plates.
Sprinkle each plate with the chopped parsley and a little extra (self)love – and dig in!