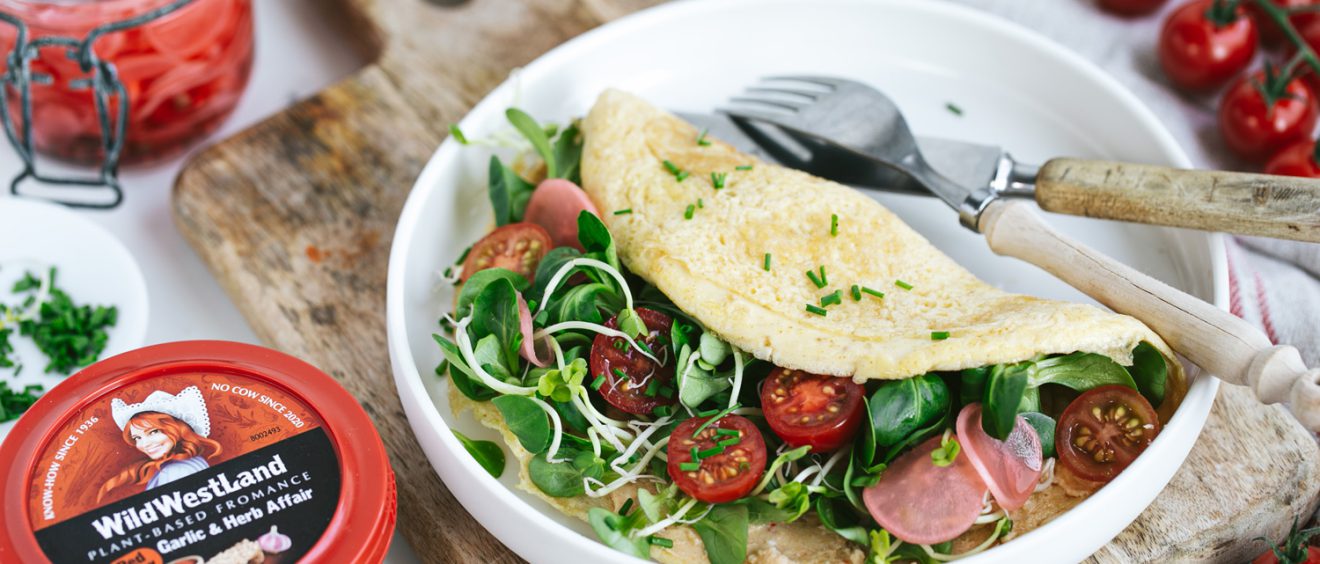 Chickpea omelet à la Annie
Contrary to a popular saying, you can make an omelet without breaking a few eggs! Chickpeas are the base for this Easter brunch classic.
This chickpea omelet à la Annie is ready in 10 minutes so you can participate in the vegan chocolate egg hunt.
Recipe serves 2, but don't be afraid to scale up.
Ingredients:
1 tub WildWestLand Garlic & Herb Affair Red Curry
75 gr chickpea flour
25 gr wheat flour
½ tsp baking powder
2 tsp curry powder
½ tsp salt
1 tbsp nutritional yeast
Aquafaba (leftover liquid) from 1 can of chickpeas, whipped up
150 ml water
(Coconut)oil to fry in
For the toppings:
Go crazy! Go wild! Use whatever your little heart desires. Some suggestions from the chef: lettuce, pickled vegetables, sprouts, chives, cherry tomatoes. The possibilities are endless. And so is my love for you.
Preparation:
Mix the chickpea flour, wheat flour, baking powder, salt and curry powder with a whisk. Spoon in the water and whisked aquafaba. Heat up a teaspoon of (coconut) oil and fry half of your batter until well-done. Do the same thing with the other half and tadaaah! Vegan omelets! To really make sure everyone will drool over seeing this dish, spread a generous dollop of WildWestLand Garlic&Herb Affair Red Curry and top it off with vegetables of your choosing. Easy as that!