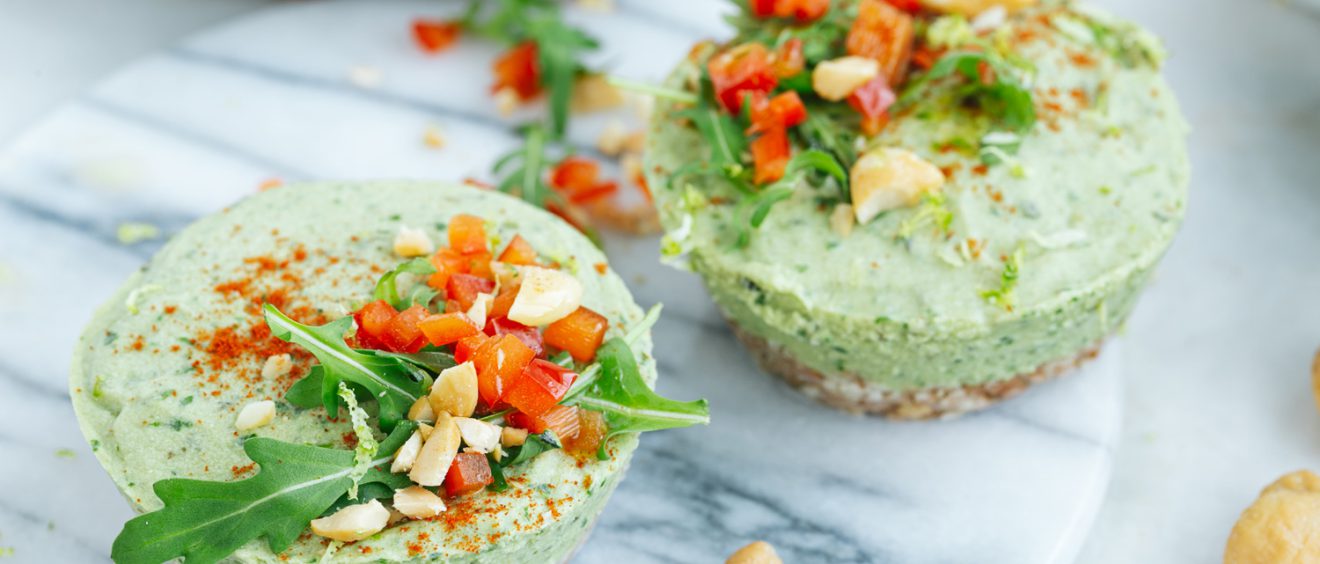 Savory mini cheesecake party bites
For everyone being as big of a fan of Heel Holland Bakt as we are, we have this entry-level recipe for something that resembles baked goods, but is way more easier than that.
Savory mini cheesecake party bites
Quantity: 4 pieces
Preparation time: 20 minutes + waiting time 3 hours
Ingredients:
1 tub WildWestLand Garlic & Herb Affair
2 crackers
1 tbsp sesame seeds
1 tbsp salted cashews, chopped
2 tbsp coconut oil, melted
1 avocado, at that 3 hour window where it's ripe & soft but not yet brown & stringy
2 tsp lime juice
1 tsp cayenne pepper
A handful of arugula/rocket
½ red bell pepper, very finely chopped
zest of a lime
Also needed:
Muffin tin, baking paper
Preparation:
Lightly grease 4 holes of the muffin tin with coconut oil. Cut 4 thin long strips of baking paper. Place a strip of baking paper in each mold so that baking paper sticks out on both sides.
Place the crackers in a sealable plastic bag and release your frustrations with a rolling pin.
Put the resulting crumbs in a bowl together with the sesame seeds and chopped cashews and stir in the melted coconut oil.
Divide the mixture between the 4 baking paper strips in the muffin tin and press down firmly. Set aside in the fridge for a while.
Meanwhile, place the pulp of the avocado in a food processor with the Garlic & Herb Affair and the arugula and blend until smooth. Stir in the lemon juice and cayenne pepper and scoop the mixture into a piping bag.
Divide the avocado mixture over the crumb bases and smooth the top. Place the bites in the freezer for about 2 hours.
Take the muffin tin from the freezer and carefully remove the bites by pulling on the ends of the parchment paper. Not a bad life hack, right?
Arrange your bites on a nice serving platter and finish with some chopped red bell pepper, some arugula, chopped cashews and lemon zest. Present with panache.