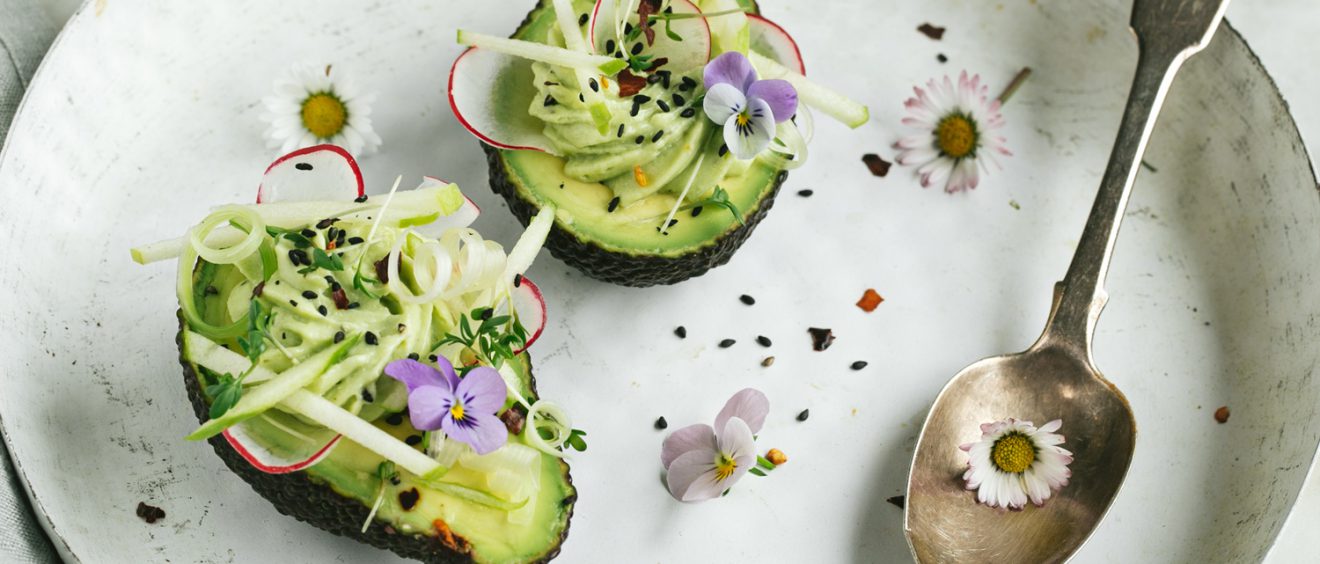 Stuffed avocados
What's a better way to celebrate World Vegetarian day than with these stuffed avocados? 🥑
Ingredients:
1 tub WildWestLand Garlic & Herb Affair
4 avocados
1 tbsp lemon juice
1 spring onion
1 Granny Smith apple, cut into thin strips
1 tsp chili flakes
1 carton of cress
1 bunch of radishes, thinly sliced
1 tsp black sesame seeds
Fancy option:
Edible flowers from the garden such as daisies, violets or nasturtiums.
Preparation:
We start with quite drastic measures: dunk the contents of the tub of Garlic & Herb Affair and the pulp of 2 avocados into your blender (you can also use a hand blender). Puree to a smooth and delectable mass. Spoon into a piping bag and let it sit in the fridge to firm up. There, that was the hard part.
Cut the spring onion lengthwise into very thin strips. If you put these in ice water they will curl up beautifully. So if you have ice cubes nearby: go for it!
Cut the remaining two avocados in half and remove the seed.
Divide the filling with the piping bag in the hollow part of the 4 avocado halves. Or simply use a spoon for that rustic look.
Top the stuffed avocados with apple, radish, cress and your fabulous spring onion curls. Add the artist's touch with black sesame, chilli flakes and edible flowers.
Tip: Take any photos before your spoon has turned your masterpiece into an Armageddon. Enjoy! 🥑