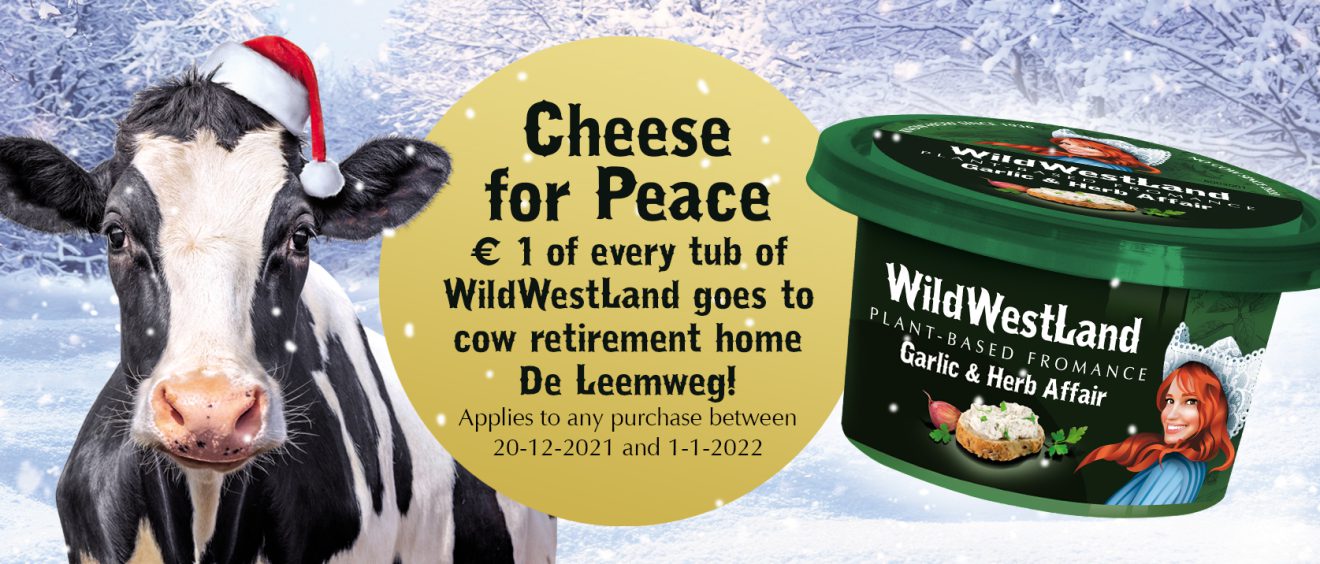 Cheese for Peace
2021, what a year. The year of first tubs on shelves, first tastes and first reactions. It was also the year of the Flemish adventure called Fromancerie. A vegan pop-up deli in Ghent, to celebrate that we set foot in Belgium. In a month's time, we met so many southern neighbors from that old butcher's shop, and we are so grateful for all the new friends we made. The year ends in style with Cheese for Peace (Kuipjes voor Koetjes in Dutch), to circle back to the animals we started this whole vegan cheese adventure for. For every tub that's sold this holiday season, we donate €1 to cow retirement home de Leemweg. Feels pretty good to end the year with cheesepeace on earth. All in all, 2021 was a great year to look back on, Fromance-wise.
You can order your Cheese for Peace directly at Albert Heijn NL, Albert Heijn BE, Jumbo, COOP and Plus.
New products
Imagine what 2022 will be like. You didn't hear this from me, but there are some very tasty new products coming up. Tubs keep disappearing mysteriously from the fridge at WildWestLand HQ which is, I think, a good sign. You will see these new spreads and dips appear in early 2022. Also, it will be the year of the yellow Fromance, formerly know as semi-hard cheeses…! These are known to be ridiculously difficult to craft if you go plant-based. But perhaps it's simply time a real cheese girl enters the arena. I do love a challenge, especially when there's excellent Fromance waiting for me at the finish line.
More Fromance ahead
Look even further ahead and things really get wild. As you know, all proceeds from WildWestLand go straight back into innovation. Those Vegan Cowboys made a lot of progress this year in their precision fermentation lab. It's a matter of upscaling and perfecting the process – and then, at last, 'first bite hurt' in vegan cheese will be a thing of the past. Hey, that rhymes. Once we get to that point, you and I can enjoy real cheese, with real casein, without bothering a single cow. Camembert, sharp Cheddar, everything is possible then. Well, that's a prospect I'm toasting to right now if you don't mind.
I'm well aware that true history is never written alone. So my dear, you fine specimen – thank you for your faith in WildWestLand and your unique contribution to this modern cheese fairy tale.
Bonne Fromance!
XX Annie
p.s. Still wondering what to eat these days? Just have a look at Annie's delicious cooking book!